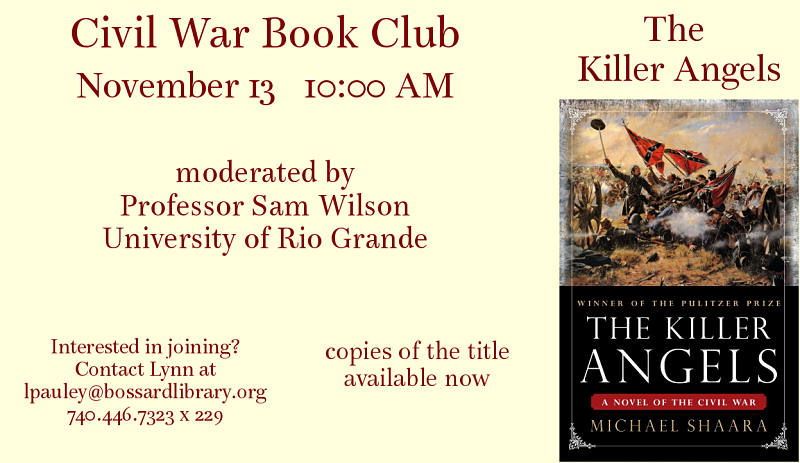 Are you a history buff? Interested in the Civil War?
If so, please join us for our Civil War Book Club on Saturday, November 13 from 10:00 AM to 12:00 PM.
We will be discussing The Killer Angels by Michael Shaara. Sam Wilson, Professor of History at the University of Rio Grande, will be the moderator for the discussion.
July 1863. The Confederate Army of Northern Virginia is invading the North. General Robert E. Lee has made this daring and massive move with 70,000 men in a determined effort to draw out the Union Army of the Potomac and mortally wound it. His right hand man is General James Longstreet, a brooding man who is loyal to Lee but stubbornly argues against his plan. Opposing them is an unknown factor: General George Meade, who has taken command of the Army only two days before what will be perhaps the crucial battle of the Civil War.

In the four most bloody and courageous days of our nation's history, two armies fight for two conflicting dreams. One dreams of freedom, the other a way of life. More than rifles and bullets are carried into battle. The soldiers carry memories. Promises. Love. And more than men fall on those Pennsylvania fields. Bright futures, untested innocence, and pristine beauty are also the casualties of war. 

Winner of the Pulitzer Prize for Fiction, The Killer Angels is unique, sweeping, unforgettable, a dramatic re-creation of the battleground for America's destiny. 
Copies of The Killer Angels are available for checkout at the Library. 
If you are interested in attending or would like a copy of the book, please contact Lynn by stopping in at the Library, calling 740.446.7323 x 229, or e-mailing lpauley@bossardlibrary.org.
This event is free and open to all.
Light refreshments will be served.