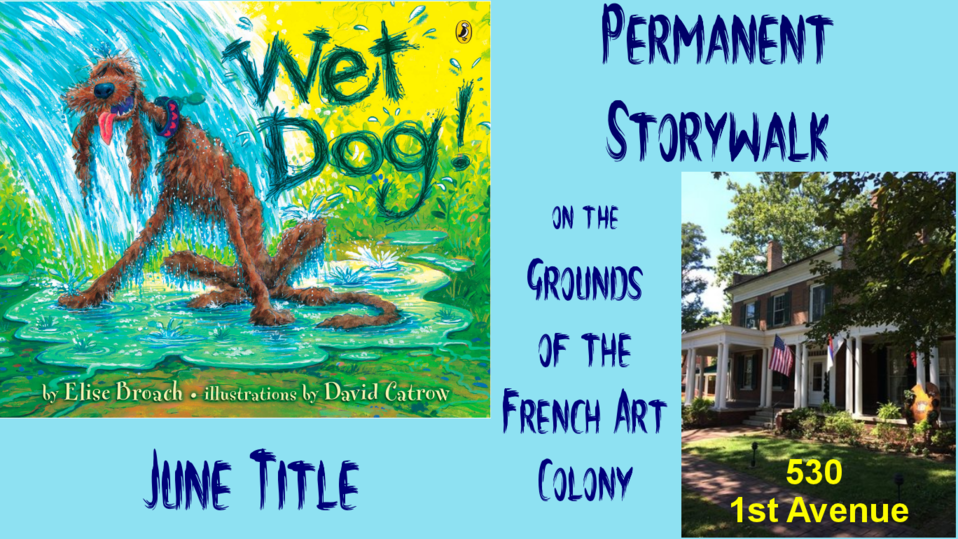 The Library's new StoryWalk title is now on display at the French Art Colony.
Stop by, enjoy the gardens and grounds, and read Wet Dog! written by Elise Broach and illustrated by David Catrow.
Well, that too-hot dog in the too-hot sun just had to cool off somehow. So he heaved to his feet, and he sniffed the air, and he trotted off down the road…pat-a-pat, pat-a-pat, pat.

He's a good old dog and a hot old dog and he just has to find himself some cool! But where? In the spray of a hose, the spritzing of a rose, or the mucky waters of a creek?

Wherever he goes, all he ever hears is "Shoo! Go on now—shoo!" Will there be a place where this panting pup-on-a-mission can finally become a soggy doggy?

Come splash right into all the wild goings-on as one very determined canine seeks relief from the heat.
To learn more about Elise Broach, please visit her website.
To learn more about illustrator Dean Griffiths, please visit his website.
Listen to a read-aloud version of Wet Dog!
Our next StoryWalk will be available the beginning of July.
StoryWalk is a way for children and adults to enjoy both the great outdoors and great children's books. Follow the pages of the story as you walk from frame to frame along the path. StoryWalk promotes literacy, physical activity, and parent/caregiver involvement.
The StoryWalk Project was created by Anne Ferguson of Montpelier, VT and developed in collaboration with the Kellogg Hubbard Library. StoryWalk is a registered service mark owned by Ms. Ferguson.