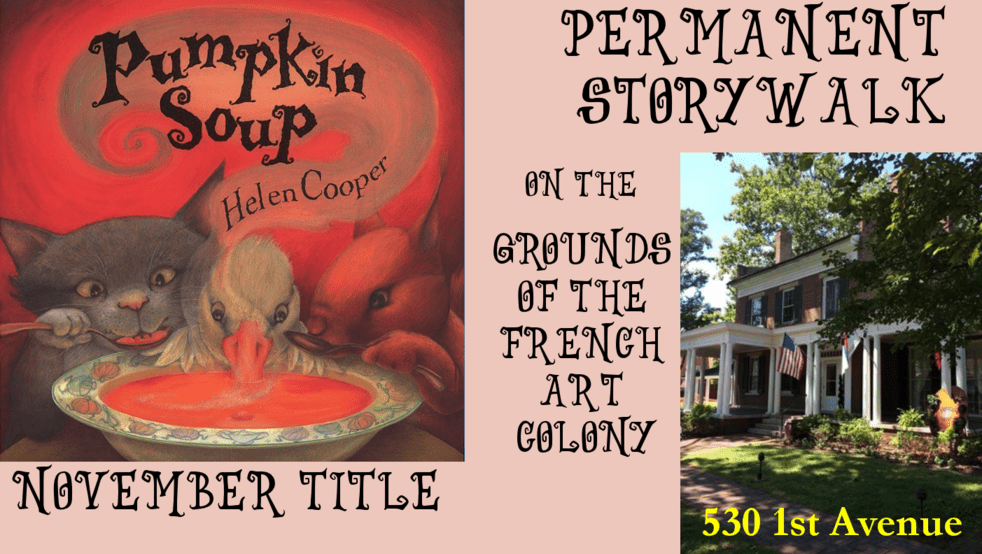 The Library's new StoryWalk title is now on display at the French Art Colony.
Our title for November is Pumpkin Soup written and illustrated by Helen Cooper.
Look what's cooking in the old white cabin. Pumpkin Soup, the best you ever tasted, made by Cat, Squirrel, and Duck. 

Every day, Cat slices up some pumpkin, Squirrel stirs in some water, and Duck tips in some salt to make the perfect pumpkin soup. Everyone has their own jobs to do when cooking --- until the day Duck wants a turn a stirring the soup.

There is a horrible squabble and Duck goes off in a dreadful huff, all alone in the wild woods. It isn't long before Cat and Squirrel start to worry about Duck and begin searching for him.

After all three are reunited, and after more cooking and rather a mess, they all learn to compromise....or do they?

A book that celebrates pumpkins, cooking, and friendship.
To learn more about Helen Cooper, please visit her website.
Listen to a read-aloud of Pumpkin Soup (YouTube).
Our next StoryWalk will be available the beginning of December.
StoryWalk is a way for children and adults to enjoy both the great outdoors and great children's books. Follow the pages of the story as you walk from frame to frame along the path. StoryWalk promotes literacy, physical activity, and parent/caregiver involvement.
The StoryWalk Project was created by Anne Ferguson of Montpelier, VT and developed in collaboration with the Kellogg Hubbard Library. StoryWalk is a registered service mark owned by Ms. Ferguson.