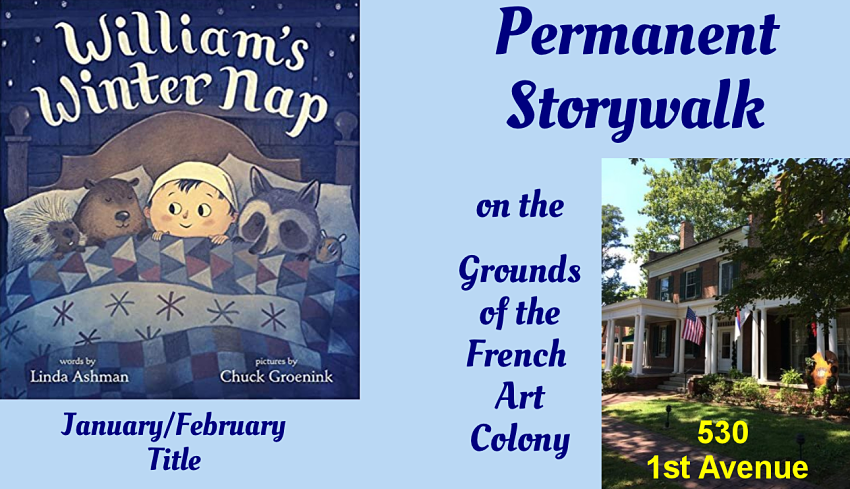 The Library's new StoryWalk title is now on display at the French Art Colony.
Stop by, enjoy the gardens and grounds, and read William's Winter Nap written by Linda Ashman and illustrated by Chuck Groenink.
Just when William is ready to fall asleep in his cozy cabin, there is a -- Tap! Tap! Tap! -- on his window. A chilly chipmunk has arrived at his door looking for a warm place to sleep. Will scooches over in bed and says: "There's room for two, I'm sure we'll fit".

The two curl up under the covers, when there is a -- Knock! Knock! Knock!. A frosty porcupine asks to join them. One after another, a parade of furry guests appear at William's door in search of a snuggly place to spend the winter.

Each time, William and his friends scooch over -- but then a note is slipped beneath the door: "Do you have room for just one more?" Is there enough space to spare? Will the other animals be willing to share?

Read William's Winter Nap to find out.
To learn more about Linda Ashman, please visit her website.
For more information on illustrator Chuck Groenink, please visit his website.
To listen to a read-aloud version of this story please click here (YouTube).
Our next StoryWalk will be available the beginning of March.
StoryWalk is a way for children and adults to enjoy both the great outdoors and great children's books. Follow the pages of the story as you walk from frame to frame along the path. StoryWalk promotes literacy, physical activity, and parent/caregiver involvement.
The StoryWalk Project was created by Anne Ferguson of Montpelier, VT and developed in collaboration with the Kellogg Hubbard Library. StoryWalk is a registered service mark owned by Ms. Ferguson.