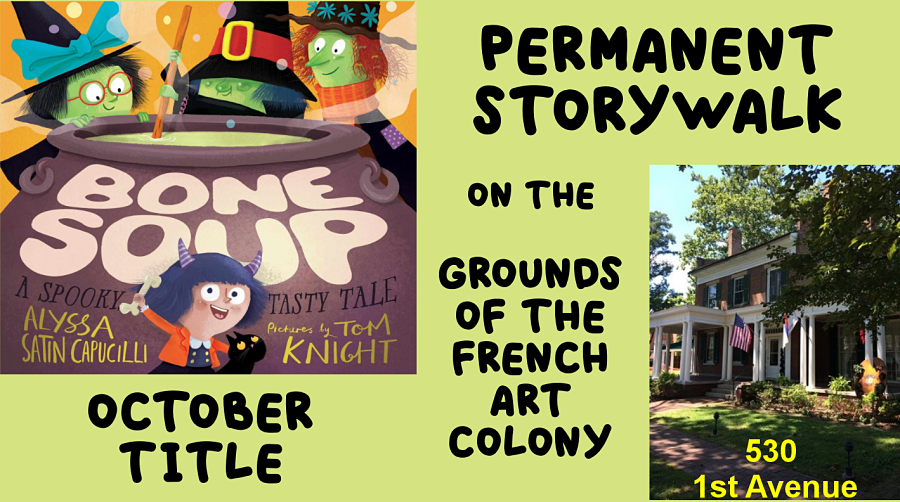 The Library's new StoryWalk title is now on display at the French Art Colony.
Stop by, enjoy the gardens and grounds, and read Bone Soup: A Spooky, Tasty Tale written by Alyssa Satin Capucilli and illustrated by Tom Knight.
Trick-or-treat? Trick-or-treat!

We've something unusually good to eat.

It's bone soup, soup from a bone.

A savory morsel is all it needs!

One Halloween morning, three very hungry witches check their cupboard and find that it is empty, except for a small, dry bone. What should they do? Naggy Witch has a great idea, and she says, "Bone soup is the perfect Halloween treat". So the witches decide to go from door to door in their village to find just the right ingredients for their Bone Soup. No one in the village is convinced that soup can be made from a bone, and just as it looks as if the witches will be part of the soup, a young monster saves the day, and bone soup is shared and enjoyed by all.

A recipe for Naggy Witch's Bone Soup is offered at the end of the book. Naggy invites kids and parents to work together to create their own bone soup.
If you would like more information about Alyssa Capucilli, please visit her website.
For more information on illustrator Tom Knight, please visit his website.
For an activity kit for Bone Soup, please click here (PDF format).
To listen to a read-aloud version of this story please click here (YouTube).
Our next StoryWalk will be available the beginning of November.
StoryWalk is a way for children and adults to enjoy both the great outdoors and great children's books. Follow the pages of the story as you walk from frame to frame along the path. StoryWalk promotes literacy, physical activity, and parent/caregiver involvement.
The StoryWalk Project was created by Anne Ferguson of Montpelier, VT and developed in collaboration with the Kellogg Hubbard Library. StoryWalk is a registered service mark owned by Ms. Ferguson.