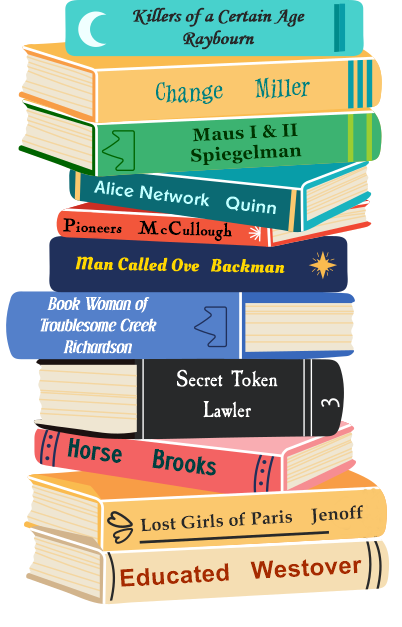 Do you yearn to share your love of books and reading?
If so, join the Bossard Booklovers for a stimulating and fun discussion every month.
Meetings are held the last Saturday of the month at 1:00 PM in the Riverside Room at Bossard Library.
All interested readers are welcome to attend. Books are chosen based on the interests of the group and can include non-fiction, bestsellers, classics, and genre fiction.
With enough advance notice, the library can provide a copy of the current book club selection for you to read.
For more information, contact Lynn at lpauley@bossardlibrary.org or 740.446.7323 x 229.
Book selections for 2024:
January 27: Our Missing Hearts by Celeste Ng 
February 24: Empress of the Nile: The Daredevil Archaeologist Who Saved Egypt's Ancient Temples from Destruction by Lynne Olson
 March 30: The Sun Does Shine: How I Found Life and Freedom on Death Row by Anthony Hinton
April 27: Run, Rose, Run by Dolly Parton and James Patterson
May 25: Hero of Two Worlds: The Marquis de Lafayette in the Age of Revolution by Mike Duncan
June 29: Patient Zero: A Curious History of the World's Worst Diseases by Lydia Kang and Nate Pedersen
July 27: They Called Us Enemy by George Takei
August 31: Shelter in Place by Nora Roberts
September 28: Day the World Came to Town: 9/11 in Gander, Newfoundland by Jim DeFede
October 26: 7 1/2 Deaths of Evelyn Hardcastle by Stuart Turton
November/December (Saturday, Dec 7th): American Grit: A Woman's Letters from the Ohio Frontier by Emily Foster and Anna Bentley