| Label | Information |
| --- | --- |
| Dates & times | |
| Category | Kids, Tweens, Teens, Adults |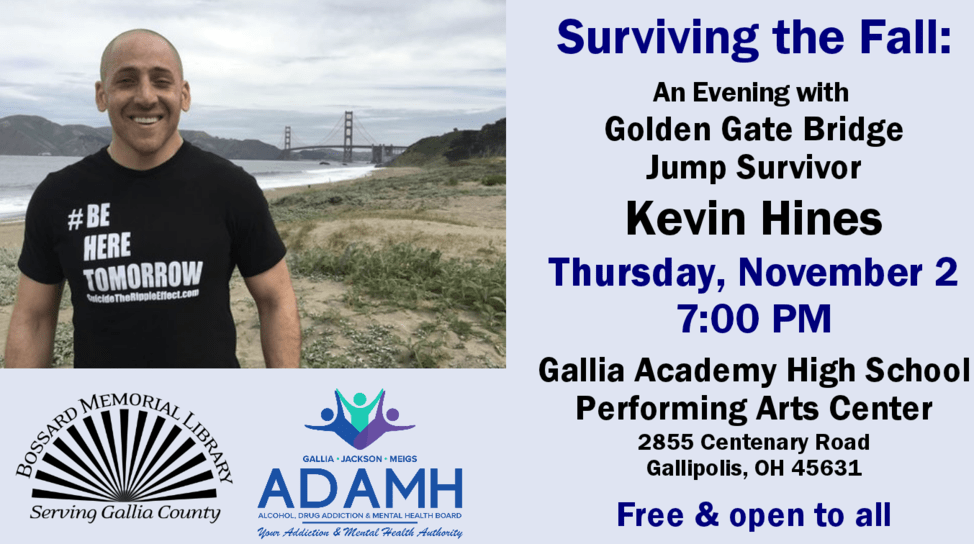 Bossard Library and the Gallia-Jackson-Meigs ADAMH Board will host a special evening with international speaker, mental health advocate, filmmaker, author, and suicide attempt survivor, Kevin Hines.
Kevin will be sharing his inspirational story of survival and growth on Thursday, November 2, 2023 at 7:00 PM in the Gallia Academy High School Performing Arts Center (2855 Centenary Road, Gallipolis, Ohio).
At the age of 19, two years after being diagnosed with bipolar disorder, Kevin attempted to take his own life by jumping off of the Golden Gate Bridge. He is only one of 36 (less than 1% of those who jump) to have survived the fall from the bridge. Many factors contributed to his miraculous survival including a sea lion which kept him afloat until the Coast Guard arrived.
Kevin now travels the world sharing his story of hope, healing, and recovery while teaching people of all ages the art of wellness and the ability to survive pain with true resilience. Kevin's will to live and stay mentally well has inspired people worldwide. His compelling story has touched diverse, global audiences within colleges and universities, high schools, corporations, clergy, military, clinicians, health and medical communities, law enforcement organizations, and various industries. Thousands have communicated to Hines that his story helped save their lives.
Kevin believes in the power of the human spirit and in the fact that you can find the ability to live mentally well. His mantra: "Life is a gift, that is why they call it the present. Cherish it always." His motto: #BeHereTomorrow and every day after that.
In 2006, Kevin's story was featured in the acclaimed film The Bridge. In the summer of 2013, Kevin released his bestselling memoir titled Cracked Not Broken, Surviving and Thriving After a Suicide Attempt. Premiering in 2018, Suicide: The Ripple Effect, Kevin's feature-length documentary film, chronicles his personal journey and the impact his suicide attempt had on those around him and his life's work since.
This event, co-sponsored by Bossard Memorial Library and the Gallia-Jackson-Meigs ADAMH (Alcohol, Drug Addiction, and Mental Health) Board, is free and open to all.