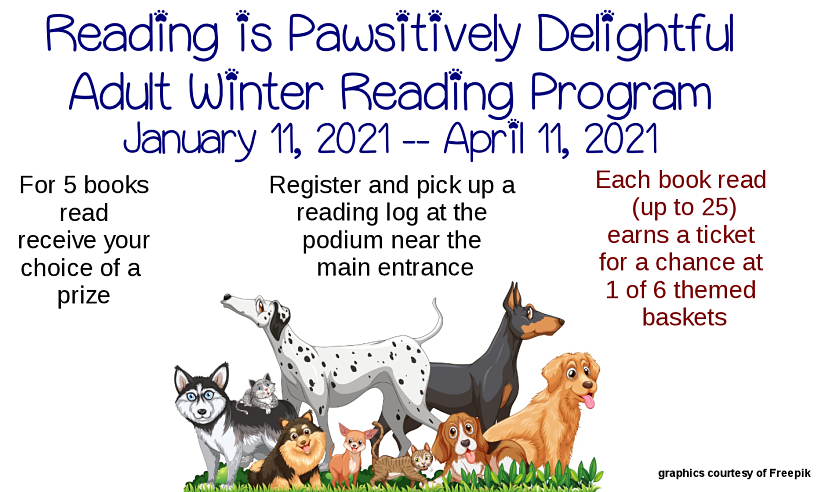 Running from January 11, 2021 through April 11, 2021, Bossard Library's Adult Winter Reading Program, "Reading is Pawsitively Delightful", offers our adult patrons the opportunity to win prizes by reading or listening to their favorite books.
Participants who read/listen to 5 books will win their choice of either a 6-can cooler, a small notebook/pen, an emergency charger, or a Bossard bookbag (while supplies last).
For every book read, participants will earn a ticket for a chance to win one of 6 themed baskets, with a maximum of 25 tickets per participant. Each basket contains items worth up to $100.
Tickets may be used on as many or as few of the six baskets as a participant chooses. The more tickets you drop in a box in front of your favorite basket, the more chances you have to win.
Baskets are available to be viewed on the table near the main entrance. The six themes are:
Porch Pastimes -- Items for enjoying a spring or summer day on the porch.
Who-Dunnit? -- Items with a mystery or detective theme.
Little Bit Country -- Items related to Country Music.
Snuggle Up With a Good Book -- Spend a lazy afternoon reading with these items.
C is for Cookie -- Items needed to fix that perfect batch of cookies.
Finding Your Roots -- Items to get you started on researching your family tree.
Only books and audiobooks borrowed from Bossard Library will count for tickets and prizes. E-books and audiobooks borrowed from the Ohio Digital Library and Hoopla are also eligible.
April 11 is the last day to receive the 5-book prize or place tickets in the boxes. The drawing for winners of the baskets will be held on the afternoon of April 12 and winners will be notified by phone.
The registration sheet and reading logs are located on the podium near the prize table at the main entrance.
Alternately, you may sign up and receive your log via our Curbside service. You may also contact Lynn via phone and receive an e-mail with a copy of the reading log to download and print out (PDF format).
When you finish a book/books, stop by the front desk with your reading log to have a member of the staff check off the number of books completed.
Join us to enjoy a "Pawsitively Delightful" time reading.
For more information, contact Lynn at lpauley@bossardlibrary.org or 740.446.7323.