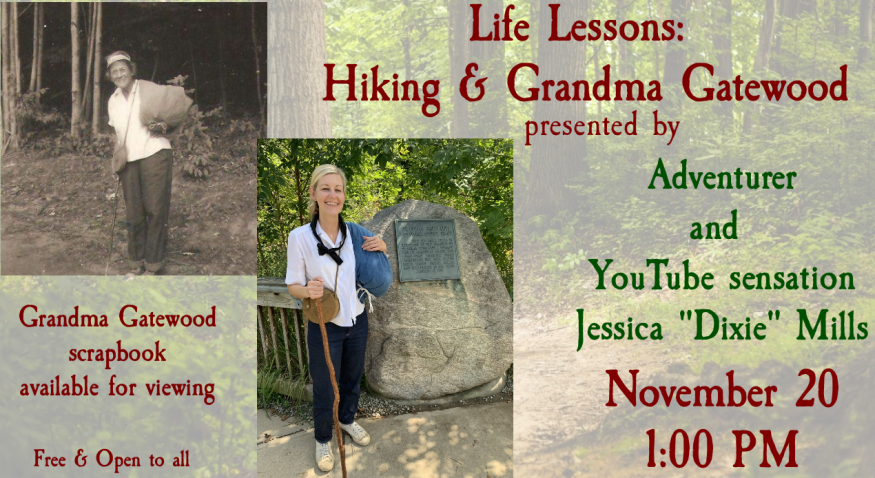 REGISTRATION IS NOW FULL FOR THIS EVENT.
You may still register and you will be placed on a waiting list. If there are any cancellations, those on the wait list will be called in the order in which they registered.
Did you know that if you hike the entire Appalachian Trail, you will be walking between five to seven months?
On Saturday, November 20 at 1:00 PM, meet two women who have accomplished that feat: Jessica "Dixie" Mills and Grandma Gatewood.
Dixie you will meet in person as she presents life lessons she has learned along the trail, and Grandma Gatewood you will meet as Dixie's recounts her thoughts about Grandma Gatewood as a hiking pioneer and an influence and inspiration to hikers everywhere.
Due to considerable interest in this program and for social distancing purposes, registration is required for this program.
Please follow this link to register.
Dixie is an inspirational creator and accomplished adventurer who bailed from society's rat race in 2015 to chase a childhood dream of thru-hiking the Appalachian Trail. Since taking her first steps on the trail, she has built a successful backpacking platform sharing knowledge and adventures on YouTube along the way. 
In 2018, Dixie completed the "Triple Crown of Hiking" which encompasses three 2,000+ mile trails including the Appalachian Trail, Pacific Crest Trail, and Continental Divide Trail. Dixie has since expanded her adventuring to other countries, and continues to grow by finding new ways to step outside her comfort zone while encouraging others to do the same.
Visit Dixie on the web and view her hiking videos on her YouTube channel, including a video she created about Grandma Gatewood and hiking the Grandma Gatewood Memorial Trail at Hocking Hills.
Bossard Library's scrapbook on Grandma Gatewood will be available for viewing.
This event is free and open to all.