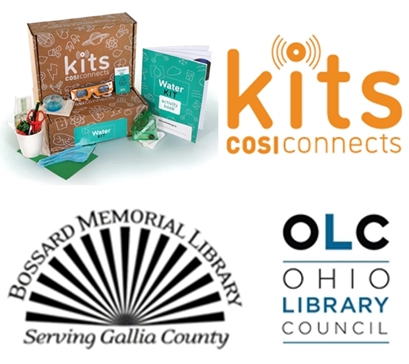 Ever wonder how a ship as big as the Titanic could float? Or how water striders are able to walk on water? Water is all around us, and the COSI Connects Water Kit explores all sorts of water-related science activities.
These FREE kits, available while supplies last, include five water-themed STEM activities and science experiments for grades K-8.
So that everyone has a chance to enjoy these kits, we are limiting distribution to 1 kit per family.
Beginning Monday, November 20, 2023, adults may stop by the library to pick up a kit at the Circulation Desk. These kits are available on a first-come, first-served basis.
To learn more about what is included in these kits, please click the links below:
https://cosi.org/connects/kits/water-kit.php?dir=kits/water-kit#includes
https://www.youtube.com/watch?v=wnVny1Vm1OU
The kits are provided through a partnership between the Bossard Memorial Library, the Ohio Library Council, and the Center of Science and Industry (COSI).