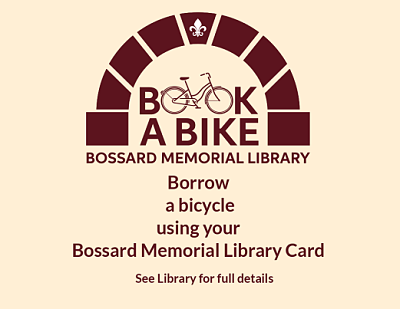 Bossard Library would like to remind everyone of a service available to our patrons -- the ability to use their library card to borrow a bicycle from the Library.
When we launched the Book-a-Bike service last year, we stated that we wanted to provide our patrons with the opportunity to enjoy a ride in town, to learn about the importance of regular exercise for a healthy mind and body, and to allow families to spend quality time together while enjoying the great outdoors.
As a way of enjoying any or all of the aforementioned points, we are recommending that our patrons take a ride on Gallia County's Rails to Trails bike path. This path is just a few minutes away from the Library and accessible to our patrons by following the Book-a-Bike signage from the Library's location on Spruce Street to the bike path.
For those residents who have not applied for their FREE Bossard Memorial Library card, the process is easy: visit the Circulation Desk at the Library with one (1) photo ID and one (1) other item that lists applicant's current address (i.e., a bill, a check, car registration, postmarked letter, etc.). The staff at the Circulation Desk will be happy to help with the process of obtaining a card.
As our patrons visit the Library to check out this service, we hope that they will also take the opportunity to learn about all the other services that the Library provides to the residents of Gallia County.
For more information regarding this service, please refer to the Book-a-Bike policy.