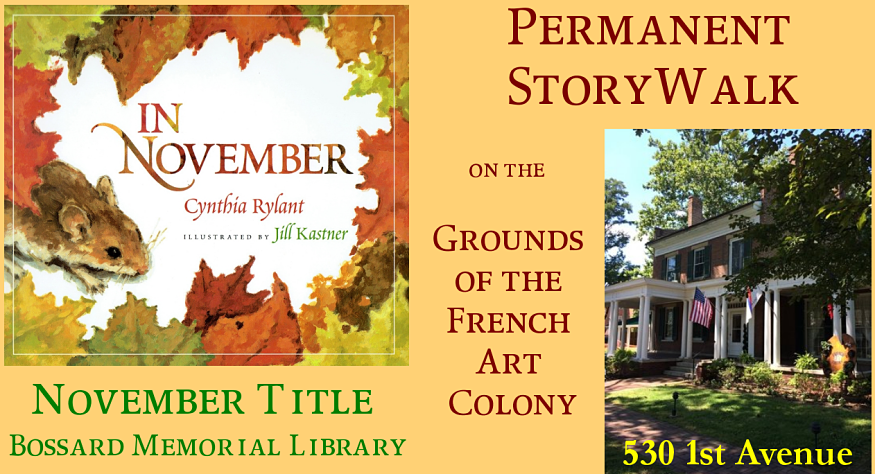 The Library's new StoryWalk title is now on display at the French Art Colony.
Stop by, enjoy the gardens and grounds, and read In November written by West Virginia and Ohio author Cynthia Rylant and illustrated by Jill Kastner.
In November, the air grows cold and the earth and all of its creatures prepare for winter. Animals seek food and shelter. And people gather together to celebrate their blessings with family and friends.

In November captures the cherished moments of this autumn month -- the moments we spend together and the ones we witness in the world around us.

Newbery Medalist Rylant and noted artist Kastner celebrate autumn activities and traditions brought by November's cooling temperatures with lyrical language and rich, cozy paintings.
To learn more about Cynthia Rylant, read about her on the Ohio Reading Road Trip.
For more information on illustrator Jill Kastner, please visit her website.
To listen to a read-aloud version of this story please click here (YouTube).
Our next StoryWalk will be available the beginning of December.
StoryWalk is a way for children and adults to enjoy both the great outdoors and great children's books. Follow the pages of the story as you walk from frame to frame along the path. StoryWalk promotes literacy, physical activity, and parent/caregiver involvement.
The StoryWalk Project was created by Anne Ferguson of Montpelier, VT and developed in collaboration with the Kellogg Hubbard Library. StoryWalk is a registered service mark owned by Ms. Ferguson.