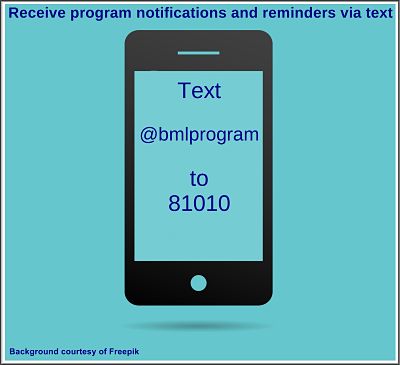 As a result of numerous requests from our patrons, Bossard Library now offers the capability of receiving program notifications and reminders via text alerts.
Remind (our text service) does not sell or share any information and features no ads. Since this is an opt-in service, your phone number remains totally private.
Patrons will not receive messages from anyone other than an employee of Bossard Memorial Library.
To begin receiving notifications and reminders, text @bmlprogram to 81010. Patrons can also download the Remind app (rmd.me) on their iOS or Android devices and search for @bmlprogram. Another option is to visit the "join Remind" page (remind.com/join), enter @bmlprogram, and then the phone number that will receive the texts.
Patrons can unsubscribe from the service at any time simply by either texting @LEAVE to the number that messages are being received from or by replying @LEAVE @bmlprogram to 81010.
Please note that phones must be able to receive text messages in order to use the service.
We offer this as a free service, but be aware that, depending on a patron's messaging plan and cell phone carrier, standard text messaging rates may apply to incoming messages.
Remind Privacy Policy / Terms of Service
For any questions, please feel free to contact Lynn at 740.446.7323 x 229 or LPauley@bossardlibrary.org